Books & Productions
Pegler Communications MD Lynn Pegler is involved in a wide range of arts activities as a creative practitioner and event organiser.
.

Salford Quays Unlocked – Voices of Manchester Docks
Multi-media poetry performance available. Running time: one hour.
Lynn launched her poetry collection Salford Quays Unlocked – Voices of Manchester Docks in 2016. The performance/book takes the reader on a historical journey, starting in 1887 with the construction of the Manchester Ship Canal through to the docks' closure a century later and finally its successful reincarnation as the Quays and MediaCity.
Artist LS Lowry, canal navies, a Tornado pilot and BBC producer are just a few of the characters who demand to be heard in this unusual and engaging collection of poetic reportage.
Poems and monologues are performed, accompanied by projected images – atmospheric old photographs of the Manchester Ship Canal and the docks, augmented with stunning new photography of Salford Quays by professional photographer Mike Poloway.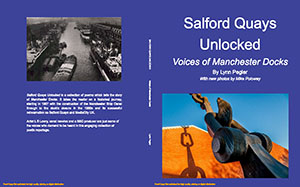 To see a preview or purchase a book, please click here.
Media coverage:
Reader comments:
"The book is lovely – it looks great, sounds great." – Dr Nikolai Duffy, lecturer Manchester Metropolitan University
"I am amazed! I put your book on the table after I got back tonight and ever since my husband has been reading your book, quoting snippets, asking questions and, the most astonishing thing, reading several poems out loud. We've been married over 50 years and as far as I'm aware he has never read a poem, certainly not aloud, since he left school! Congratulations on the book." – EP
If Only: An Audience with Rudyard Kipling

A new one act play by Lynn Pegler.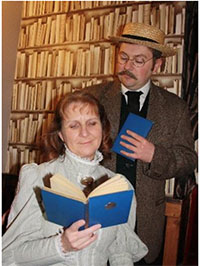 A one act play about the Jungle Book author Rudyard Kipling, premiered in the glorious concert room at St George's Hall, Liverpool, in March 2017.
Performed by Matt Jones and Lynn Pegler.
Running time: one hour.
Ideal for literature festivals.
This new play explores Kipling's extraordinary life and the devastating personal consequences of World War One, incorporating many favourite poems and stories.
The production enjoyed tremendous success over summer 2017 with performances at Northwich Literature Festival, Titchfield Festival Theatre in Hampshire and a five day run at Edinburgh Festival Fringe.
.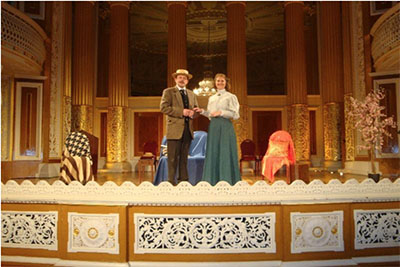 .
Audience comment on Facebook:
"It's absolutely stunning. Two very talented actors performed an exceptionally well written piece of work, which takes you through the full gamut of emotions. Lynn and Matt should be incredibly proud. It's one of the best examples of new writing that I've seen in a long time, and both performances more than do it justice." – OT
Stage work
Lynn is a regular stage performer and director. Her productions of Oliver and A Mouse's Tale, which she directed for Kingsley Players, won the Cheshire Theatre Guild James Tait award for Best Musical Production 2016 and 2017.

---
Peterloo
Peterloo is a new one act play, written and directed by Lynn Pegler and performed by The Kingsley Players in Cheshire, 11-13 April, 2019.
Winner of the Cheshire Theatre Guild 2019 Awards – Write Now! Award for Best New Writing.
See the pictures and a video of the play below. Film by North Star Digital.
The play tells the story of real and imaginary people caught up in one of England's greatest political events staged in Manchester 200 years ago. On a sunny August day in 1819, a peaceful rally at St Petersfield turned into a bloody massacre after troops were ordered to attack a crowd of c.60,000 men, women and children. 17 people died and over 600 were injured.
"A great piece of theatre". "A great play, very well received by the audience. I congratulate Lynn Pegler on writing and directing this piece." NODA (National Operatic and Dramatic Association)
"The big set piece of the 'battle' itself was excellently conceived and executed." Cheshire Theatre Guild
Images and video from Peterloo