Press Releases – 2013
Please find below press releases on behalf of my clients. They are in PDF format and can be opened and printed as needed:
18 December: Cheshire law firm unifies as FDR
14 December: Ice Queen brings panto cool to Kingsley
2 December: Keep law local, says new Warrington Law Society President
28 November: Dealing with stressful relationships at Christmas
27 November: FDR – Pyjamas for Pudsey
29 October: Widnes creative design agency goes MaD!
10 October: FDR plays a'hole in one' for Warrington Youth Club
18 September: Riotous comedy on stage in Kingsley
12 September: FDR charity will-writing week bonanza for St Rocco's Hospice
2 September: Cheshire solicitor appointed to top Law Society panel
22 July: Warrington FDR solicitors put icing on the cake for BAKO acquisition
18 July: New CEO for Cheshire law firm FDR
17 July: Wedding cake entrepreneur wins logo competition
17 June: Weaver Words Weekend planned for September
17 June: Gay couples shine a torch for the benefits of marriage, says QualitySolicitors Forshaws Davies Ridgway
24 April: New EU support programme to boost Halton small businesses
18 April: New-Look Halton Professional and Business Women Network
18 April: Extra Calendar Girls date in Kingsley – by popular demand
18 April: Premier at the Royal Northern College of Music
15 April: Treat police cautions with caution, warns Warrington defence solicitor
5 April: Grange School – rescheduled memory lane visit
4 April: QualitySolicitors Forshaws Davies Ridgway sponsors Lymm RFC
19 March: Solicitors Forshaws Davies Ridgway get funny for money
28 February: High housing costs in Warrington trap unhappy couples, warns solicitors QualitySolicitors Forshaws Davies Ridgway
13 February: Solicitors Forshaws Davies Ridgway raise £750 for Breast Cancer Care
4 February: Legal aid for divorcing couples axed in April, warns solicitors Forshaws Davies Ridgway
28 January: Kingsley Players bake 'big buns' for 'Calendar Girls'
17 January: Printel and Alsop School spearhead the Augmented Reality revolution
14 January: Saturday opening launched by solicitors Forshaws Davies Ridgway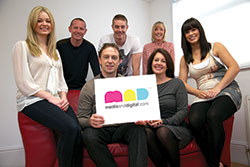 Gill and Stuart Atherton (seated) with the MaD Team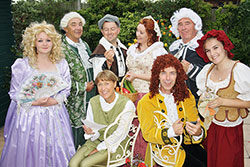 Riotous comedy from The Kingsley Players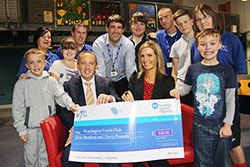 FDR presents a cheque to Warrington Youth Club.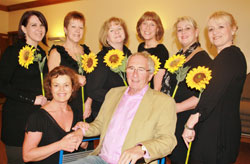 Kingsley Players' production of Calendar Girls.
Michael Betteridge and Lynn Pegler at the Royal Northern College of Music.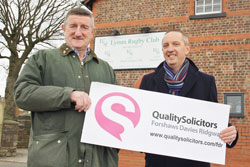 Tim Jordan of Forshaws Davies Ridgway announces the sponsor of Lymm Rugby Club with Danny Danny McNicholl from Lymm RFC.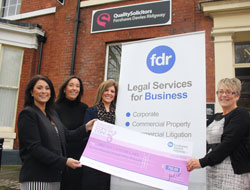 Philippa Quayle accepts a £750 cheque for cancer charity Breast Cancer Care presented solicitors Forshaws Davies Ridgway.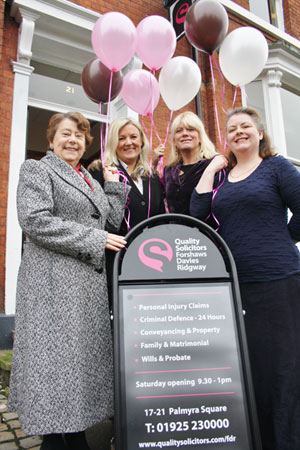 Saturday opening launched at Forshaws Davies Ridgway.